Different Blazer Types and How You Can Style Them
A few decades ago, blazers were only worn on formal occasions or used as part of business attire. However, in the last few years, this chic piece of clothing has become increasingly popular in the fashion world, and blazers have now become a wardrobe staple for every fashionista around the world.
From sharp and sophisticated to soft and feminine, blazer can help you achieve almost any look. Want to know how to wear a blazer? Women of any shape and age are guaranteed to look a thousand times more sophisticated if they follow our guide!
How to Wear Different Types of Blazer
If you think there's only one style of blazers, think again! There are a lot of unique blazer styles that you can choose from. Find out which style fits you the best and how to dress them up.
1. Single-breasted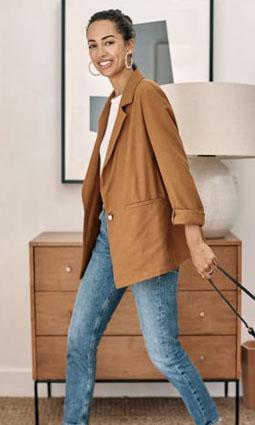 Let's start the list with the classic single-breasted blazer, and it is no doubt a must-have for everyone. It creates a slim and flattering look, making it the perfect match for any body type. This type of blazer can also be worn with both casual and formal outfits.
For a simple yet chic look, pair this single-breasted blazer with a T-shirt and a pair of jeans. Finish off with a pair of kitten heels and you're ready to make the city your runway! For a more classic and sophisticated look, pair the black single-breasted blazer with a white blouse and a pair of dress pants.
2. Double-breasted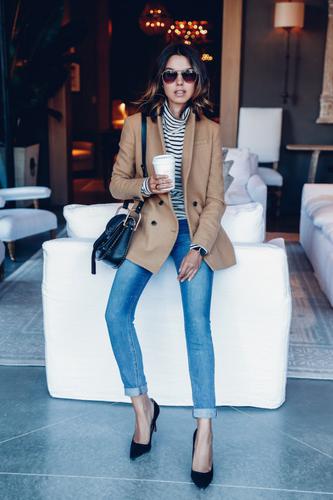 Double-breasted blazers are famous for their elegant look. This blazer style has a sleeker appearance, making it perfect for those with a rectangular or hourglass body shape. Double-breasted blazers are usually worn for formal occasions, but that doesn't mean you can't wear them for a casual date. The chic and neat appearance makes this type of blazer best for fall and winter.
Wear a double-breasted blazer with a classic pencil skirt and a blouse for a sophisticated look. Alternatively, you can also wear it with your favorite jeans and a turtleneck top for a more casual look.
3. With a belt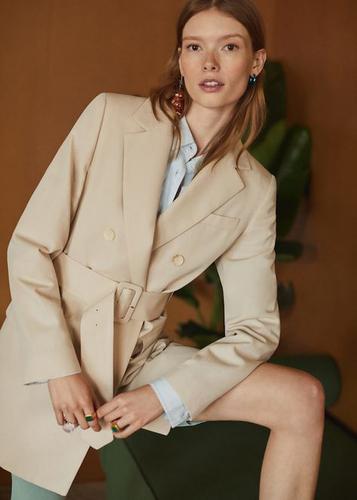 Some blazers come with a belt. These blazers are typically longer, adding more elegance to any body type. Blazers with a belt typically look better during the colder weather. But you can also wear it during the summer by having the belts untied.
For a smart business look, wear your belted blazer with a simple shirt, a pair of high-waisted pants, and a pair of mary-janes. Wearing a dress with blazers of this type will also make you look like an elegant movie star. During the warmer weather, wear the blazer untied on top of some denim shorts and a nice pair of flats for a cute and feminine look.
4. Long blazer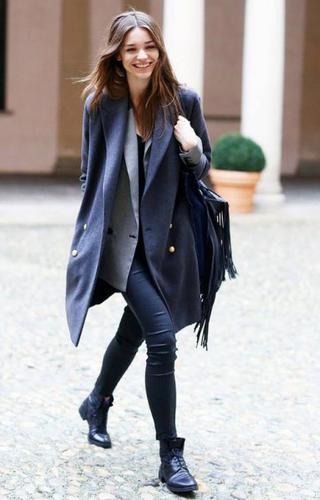 A long blazer usually stretches to your knees and sometimes below that. Long blazers will look great on tall women, enhancing their figures and make them look leaner. Great for layering, this type of blazer will look amazing during winter.
To create a chic winter outfit, wear a long blazer with a warm wool sweater and a pair of knee-high boots. Maybe wrap a scarf around your neck to complete the look. For a simpler look, pair the blazer with dark-wash jeans and a pair of ankle boots.
5. Colorful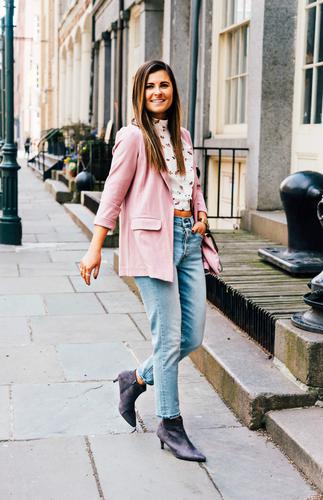 When we think of blazers, we often think of black, navy, grey, or beige. But why limit yourself to those colors? There are many fun-colored blazers you can choose from. Colorful blazers are usually for casual looks, but it can also look great for formal wear.
For a fun casual outfit, try wearing a pink blazer with light-wash jeans and a patterned T-shirt. Alternatively, you can try a yellow blazer paired with a matching pencil skirt and a simple blouse for a bright and cheerful work outfit.
6. Striped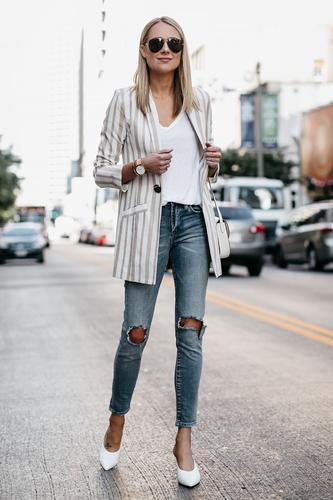 Want to spruce up boring everyday outfits? Try wearing a striped blazer! Look for blazers with vertical stripes for a slimming appearance. Stripes are perfect for everyone, so it will match any outfit style and body type.
For a cool everyday look, pair your striped blazer with some ripped jeans and a tank top. Don't forget a pair of heels to steal everyone's attention. If you're into a more serious outfit, try the blazer with a pair of high-waisted dark trousers and a button-up shirt instead.
7. Plaid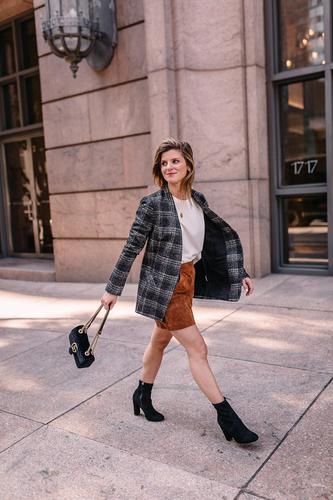 You simply can't go wrong with plaids! Chic and elegant, a plaid blazer instantly upgrades any outfit. If you're on the petite side, try wearing a short or mid-length plaid blazer. And if you're on the taller side, choose a mid-length or a long blazer to enhance your figure. Wear plaid blazers during the colder months for an effortlessly sophisticated look.
For a great lunch date outfit, pair your plaid blazer with a short suede skirt and ankle boots for a casual yet feminine look. To get a classic formal look, wear it with matching dress pants and a simple blouse.
Takeaway Message
So, which blazer type is your favorite? Will you be adding a new blazer to your collection this season? Either way, we hope that our guide on how to wear blazers inspires you to turn that simple piece of clothing into a chic, elegant, and stylish outfit enhancement.