4 Best Sunscreens for Oily Skin & Further Tips
Do you want to prevent sunburn and premature aging signs? If yes, consider applying sunscreen to protect your skin from the harmful ultraviolet radiation, which could lead to skin cancer in the long run. In this busy life, we find it very challenging to stay at home and away from the scorching sun. However, we can protect ourselves by applying sunscreen regularly. People having normal and dry skin usually apply moisturizers, but usually, people with oily skin avoid moisturizers and sunscreen altogether! However, protecting the skin from the sun is necessary for everyone, regardless of the skin type. If you are looking for the best sunscreen for oily skin, and we are here for that!
Best Sunscreen for Oily Skin
We have explored hundreds of sunscreens for oily skin to come up with the best 4 based on results and reviews. Have a look and choose one that best suits your skin.
Kiehl's Super Fluid Daily UV Defense Sunscreen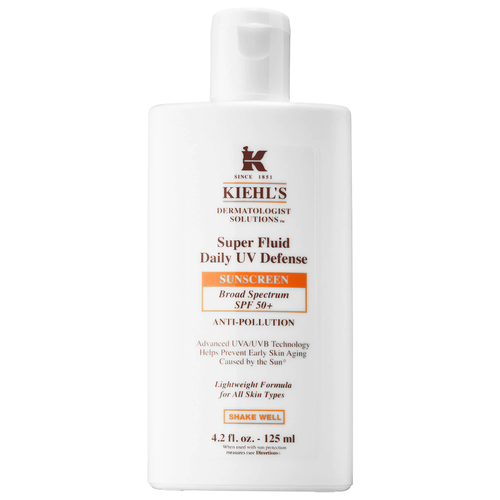 If you want to apply light facial sunscreen that absorbs quickly and gives no more strange glossy look on your face, then this non-comedogenic SPF 50+ sunscreen is the one for you. Vitamin E and Baicalin are its key ingredients; they provide antioxidant benefits and play a vital role in defending against free radicals. Its UVA/UVB protection technology guards our skin against the harmful radiation of the sun and radicals. This dermatologist-tested product keeps away signs of aging and is suitable for normal, dry, oily, and sensitive skin types.
Avène Mineral Light Hydrating Sunscreen Lotion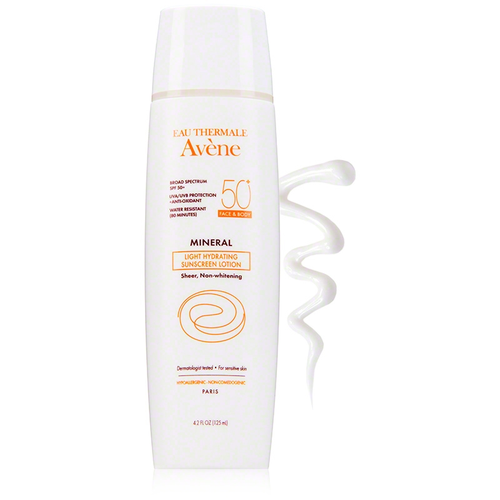 This mineral-based sunscreen lotion for oily skin doesn't make you look oily like other mineral sunscreen lotions. This unique feature makes it stand out from other similar products available on the market. The broad-spectrum SPF 50 plus provides high protection against harmful sun radiation. This chemical-free product is formulated with powerful antioxidants and soothing Avène Thermal Spring Water. Because of its natural mineral ingredients, Avène is free of the traditional sunscreen smell. It is not heavy, non-comedogenic, and allows the skin to breathe. The continuous use can decrease the number of spots and freckles on your face.
Apply the lotion 15 minutes before going outside or being exposed to the sun. It is also highly recommended to reapply after swimming or sweating every 2 hours. It works great alone but also works great under foundation and primer. The company claims it to be hypoallergenic, therefore, it is safe to use for people with sensitive skin. Dermatologists recommend it world-wide for its quality and reasonable price.
Skinfood Aloe Watery Sun Water Gel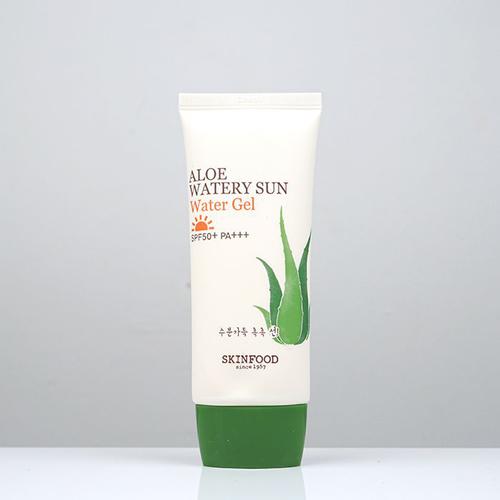 Skinfood is a hybrid physical/chemical sunscreen with 50+ SPF, which is enough to protect the skin from harmful radiation and pollution. This product has an aloe scent with a hint of cucumbers - like a fresh body wash. The name "Aloe watery" says it; it is a lightweight sunscreen gel that protects you from the harsh UV rays.
When you apply this sunscreen gel, you will be amazed by how easy to apply it is. It works well for oily skin and normal skin especially. For best results, apply it after moisturizer and before your makeup routine. Its light texture makes it a perfect choice for those people who hate heavy sunscreens.
Vichy Idéal Capital Soleil Sunscreen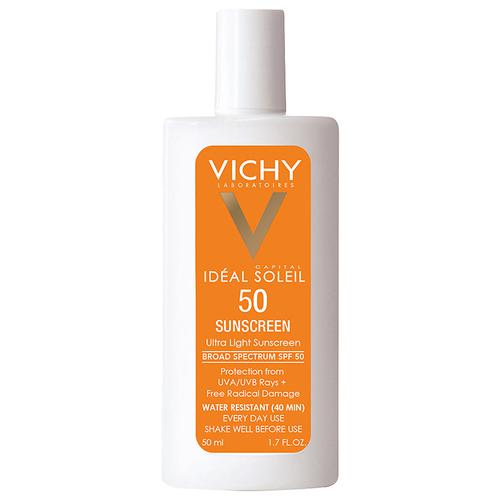 Our last pick here is an amazing sunscreen with a broad-spectrum UVA & UVB SPF 50 protection. Its enriched antioxidants, vitamin E and white grape extract will help keep the skin moisturized. Its non-greasy and lightweight texture gets absorbed quickly and gives a matte finish.
Vichy is the #1 Anti-Aging Brand in European pharmacies because of its effectiveness and customer satisfaction. This sunscreen is dermatologist-tested as well. This ideal sunscreen is perfect for all skin types: dry, normal, oily, acne-prone, combination, and even sensitive. This Aminobenzoic acid (PABA)-free, allergy tested, and oil-free sunscreen protects your skin all year round. For best results, apply it 15 minutes before exposure to the sun and reapply every 80 minutes in case of sweating or swimming.
Tips for Skin Care Routine for Oily Skin in Your Daily Life
If you have oily skin, besides using sunscreen made for oily skin, there are some further tips for your daily skincare routine that you need to keep in mind. These tips will help you achieve smoother skin and will help you get rid of clogged pores and acne as well.
Do's
Wash your face every morning, evening and after exercises:

Washing your face regularly reduces the amount of excess oil on your skin. It is best to wash your face twice a day with gentle soap and lukewarm water. Make sure you use a fash wash designed specifically for your skin type.

Disposable face cleansing pads:

Instead of washing your face with soap every time, you should consider using disposable face cleansing pads. They contain soap and take off extra oil on your face.

Toner:

Applying toner eliminates oil and tightens the skin. You could use it right after washing your face. Only buy toners of reputed companies and you should apply it on a smaller skin patch first in order to know your skin's reaction.
Don'ts
Avoid touching your face throughout the day:

You do not want to spread dirt, oil, and bacteria from your hands to your face. So you should avoid touching hands on the face throughout the day. Before makeup, washing, or cleaning, make sure to wash or sanitize your hands first.

Avoid alcohol-based cleansers:

Many facial and cosmetic products, such as facial cleansers, include alcohol, which could dry and irritate the skin. Before using any facial product, make sure it is free from alcohol.

Do not sleep while putting on makeup:

Sometimes, tiredness makes us sleep with our makeup still on. It is not a healthy habit because, by doing so, your pores get clogged and your skin will age faster as a result.
Closing Thought
We have provided you a list of the best sunscreen for oily skin and tips for your skincare routine as well. By using sunscreen regularly and practicing the tips mentioned above, you will see the difference within a few weeks.