The Best Hairstyles for Men Who Love Long Hair
Guys with long hair are trendy nowadays. Long-haired men were a common sight in the 1960s and 1970s, in keeping with the rebellious youth culture of the times. This hairstyle seems to be making a comeback and has become a trend once again. Neatly kept long hair can symbolize power, freedom, and good health. It also makes you noticeable and help you stand out from the crowd. Whenever a guy combs his long hair and beard, it makes him look hot, sexy, and masculine.
Top 11 Best Long Hairstyles for Men
While not all men favor long hairstyles, for those who do, there is a wide range of styles to choose from. Your choice of hairstyle will depend on hair characteristics, shape of the face, mode of maintenance, and occasion. If you are thinking of growing your hair long, consider the following hairstyles.
Man Bun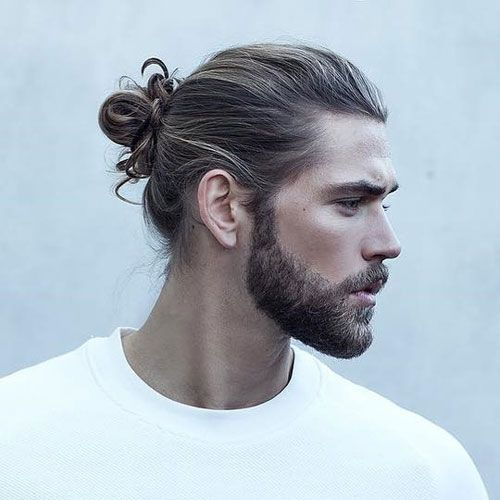 The man bun is a modern classic that started to become trendy in recent decades. It is an easy and adaptable hairstyle for men with long hair. The style works best for people with hair that is at least 6 inches in length. Making a man bun is easy: you only need to twist the hair and tie it at the back using a hair tie. The hair can be styled differently according to the event. It saves you time; in less than five minutes, you will be ready to go. It is a perfect choice for men who want a hairstyle that works for all occasions.
Ponytail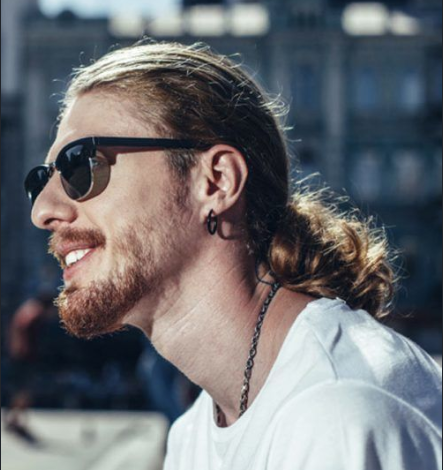 The ponytail is a simple, quick and easy way of styling long hair. The hair is pulled away from the face and tied at the bottom or at the top, depending on its length. A ponytail helps keep the hair out of your eyes and can work with all face shapes. It's a style that is suitable for all kinds of occasions and events. To make a ponytail more attractive, apply a hair-conditioning product before pulling it back; it's a great way to leave it looking shiny and healthy.
Long, Curly Hair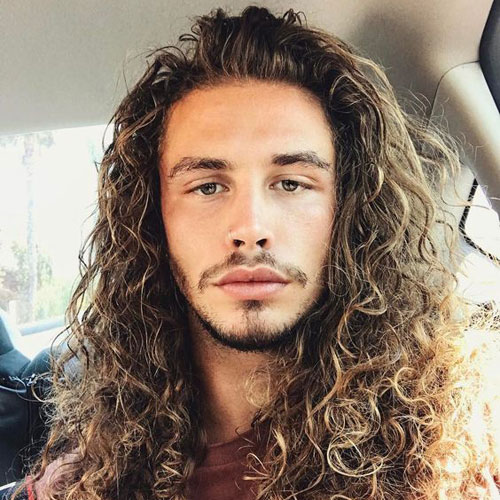 This style, which is best for men with naturally long, thick, and curly hair, involves pulling the hair back without fastening it in place. It gives you a chance to show off your glorious mane and is suitable for a variety of occasions and face shapes. To maintain the style, apply a hair product to make curls cohesive, less frizzy, and more manageable.
Top Knot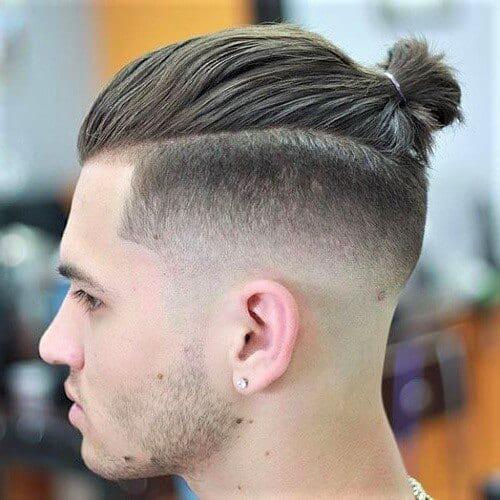 This style is quite similar to a man bun, but different in little details. For the man bun, long air should cover the entire head; for a top knot, the hair is cut short or even completely shaven at the sides. The top knot is suitable for all face shapes and is best for men who don't like leaving all of their hair long. The hair on the sides of the head should be regularly clipped to maintain the look.
Long Hair with Part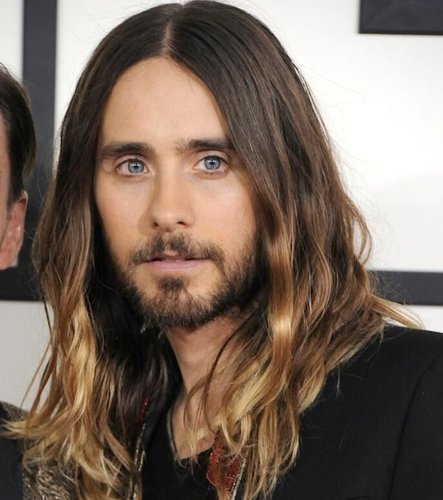 If you want to try long hair with a part, first divide your hair, while still wet, into two or more parts from the hairline to the crown. Then, use hair serum or hair oil through with your fingers to make the part conspicuous. You can also part the hair in different ways for different occasions. You might even choose to tuck some of the hair behind the ear.
Half-Up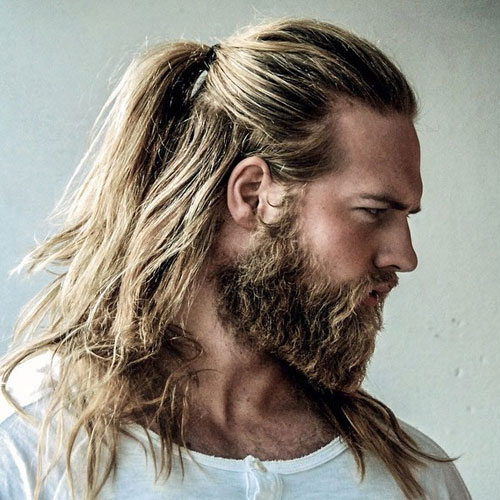 The half-up style is great for men with long hair and is achieved by pulling about a third of the hair to the top of the head in a knot. The knot itself is tied loosely, and the rest of the hair is left to flow backward. This hairstyle looks stylish and will look good for everyone. Even better, this hairstyle is easy to maintain and does not require extra effort.
Long Braids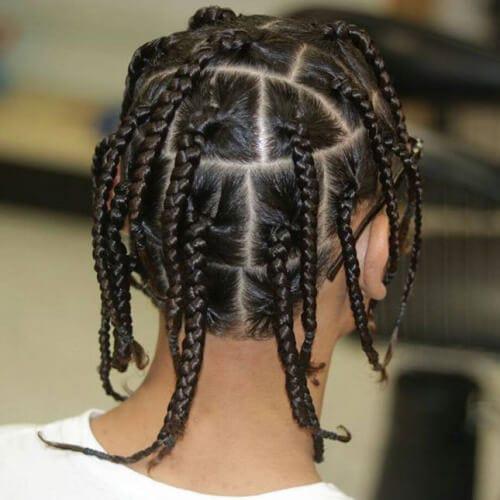 If you crave a bold look, braids are an ideal option for men with long hair. It's a style that goes well with a range of formal and informal apparel, so it's appropriate for a variety of events. Long braids are stylish and versatile and suitable for any face shape. Take care of the look by keeping the braids tight and well defined.
Long Slick Back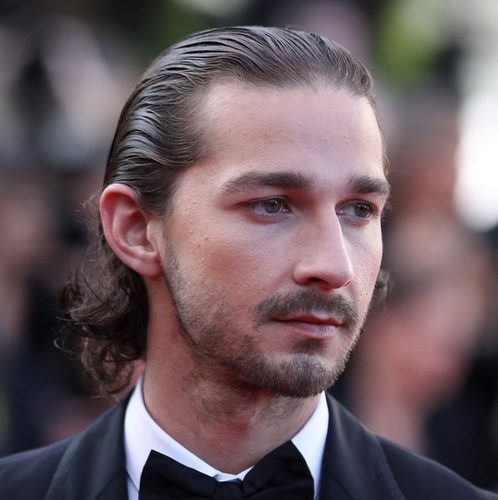 The long slick-back style is suitable for men who have long to medium length hair. The style is elegant and easy to create and maintain. If the bun or ponytail is not for you, you can go for the long slick back. It works for a variety of occasions, from formal wear to street clothes. You just need to apply some hair gel and rake the hair back using your fingers. Men with curly or textured hair can use pomade to achieve a greater hold.
Long Straight Hair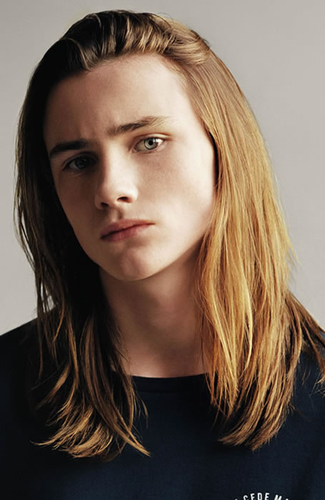 Long, straight hair is a great way to show off your hair. The style is best for hair that is naturally smooth and straight, but if this is not the case, hair products can be applied to make it soft and straight. Blow-dry the hair using a heat-blow dryer and brush the hair out with around brush, and then apply the hair product.
Dreadlocks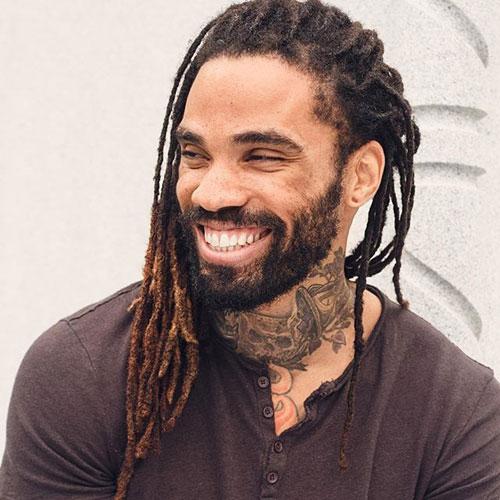 Guys with long hair have the option to rock dreadlocks. Not everyone loves dreadlocks, but they are an ideal choice for those who wish to try something different. Although dreadlocks are a good fit for guys with any face shape, they need lots of care and maintenance. But the results will be worth it!
Long Undercut and Beard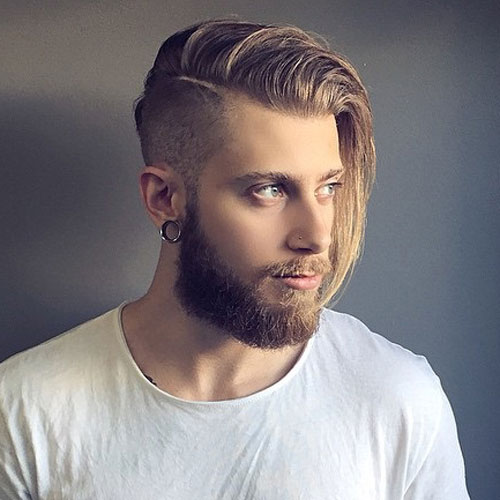 The long-hair undercut works well with a beard. You can choose from a variety of combinations: undercut with brushed-back hair and a full beard, a side part undercut with a full messy beard, a slicked-back undercut with a short beard, and the options are endless. To maintain the style, you just need to keep the undercut areas well shaven or trimmed regularly.
Summary
A wide range of styles is available for men with long hair, so choose the best one for you today! However, when you choose a hairstyle, you should always think about if you have the time or energy to maintain it. Watch the following video for more information: