Top 6 Tips on How to Jerk Off: A Brand New Experience
When it comes to topics that are entirely personal, many people tend to shy away from masturbation. It doesn't have to be like this.
Jerking off? That's something every man does at least once a week. We should embrace masturbation instead of feeling false shame when talking about it.
Masturbation carries some benefits, including lasting longer during intercourse. It's also great for relieving stress. Some studies point to masturbation as a way of staving off prostate cancer.
Below are some tips on how to jerk off properly so that you don't hurt yourself while gaining some of the benefits.
Some Great Tips on How to Jerk Off Satisfyingly
Even if you climax at the end of your session, you'll find that it may have not fulfilled its full potential.
There are some ways you can ensure getting more satisfaction out of the entire process.
1. Use a pillow
The joy in masturbation comes from using some unconventional methods. For example, you may take a pillow – a really soft one is the best – and fold it over.
This creates a tight space into which you can insert your penis. Proceed to rock back and forth, in and out as you would do during an intercourse.
The texture of the pillow against your member is definitely different from that of your hand. Also, it's often gentler, providing a great orgasm.
2. Make use of lube
One of the best ways to masturbate is using lubrication. When using only your fingers, the friction created by rubbing on your penis can desensitize it. Not only that, you are running a high risk of bruising your member.
Lube takes care of the friction, making the whole process smoother and more enjoyable. Even when you are using other methods like anal toys, you need to use lube to make things much easier.
3. Don't ignore the balls
For many men, masturbation is all about the penis – nothing else matters. And so, you might be wondering how to jack off while including your balls.
Many people don't know that the balls are also very sensitive. While using your hand or vibrator on the penis, use the other hand to play with your balls. The combined pleasure will ultimately drive you to a very memorable orgasm.
4. Use a vibrator
The use of vibrators is not restricted to women. You can use a vibrator around your balls to increase pleasure.
You can also use a vibrator on other erogenous zones to experience new kinds of pleasure. One of these zones is the stretch of skin between your balls and the anal opening.
The anal opening itself is also a hub of pleasurable sensations that you can awake by using a vibrator.
5. Switch it up with the hands
Many men have their go-to hand when they are jerking off. You don't even think about it, you just find the hand already wrapped around your member.
Why not switch it up? If you are a righty, try using your left hand. The feeling will be totally different and drive you to an intense orgasm.
You can even use both hands at the same time, gripping the top half of your shaft with one hand and the bottom with another. The coverage when you stroke evokes a very welcome feeling.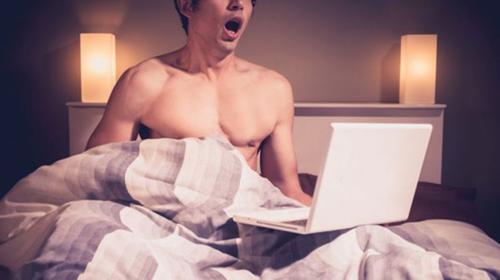 6. Edging
For many people, masturbation is about rubbing one out as quickly as possible. They focus more on achieving a climax and less on enjoying the journey towards an orgasm.
Edging is a technique whereby you jerk off and stop when you feel nearly climaxing. Relax for a bit and let the sensation ebb before jerking off again.
Repeat this stop and go process until you can't hold it in anymore. What this does is build up your anticipation for the climax, resulting in an intense and mind-numbing orgasm.
What More Should You Know about Jerking Off?
While jerking off can be immensely pleasurable, there are some things you need to know so that you don't go overboard while achieving multiple orgasms.
1. How often should you masturbate?
We have already established that it's completely normal to masturbate given all the good that can come out of it.
However, you need to draw the line and stay on the healthy side of things. A study recommended jerking off to climax 21 times per month.
What reason did they give for this? It reduces your chances of getting prostate cancer.
2. Side effects of excessive masturbation
When you jerk off too much, your body can't keep up. There are some side effects that will show up.
It takes about 74 days for your balls to make fully grown sperms. When you jerk off too much, you don't give them enough time for regeneration. This results in a reduced sperm count, affecting your reproductive ability.
If you masturbate often enough, your body will become used to achieving its climax quickly after only a short period of stimulation.
As you are trying to have sex with your partner, you'll end up ejaculating prematurely because your body is not used to sustained stimulation.
Many men use a lot of force when jerking off, trying to achieve the climax as quickly as possible.
Though the penis is not made of bone, the tissue is capable of splitting. The corpus cavernosum, the inner portion of the penis that fills with blood to make it erect, can split when too much force is exerted.
Take Home Message
Masturbation shouldn't be something you shy away from. It's perfectly normal and offers plenty of benefits.
To get the most from it, we have provided some tips on how to jerk off fruitfully. However, don't go overboard because there are some side effects of masturbating too much.