20 Best Party Songs of All Time
Want to know what the best party songs of all time are? Well, keep on reading. We will make sure that you will have a rocking party, no matter what kind of party you may be throwing. Picking the right playlist for a party is far more important than you may think, since having the right songs is what sets the tone for the party. Here are our picks for songs that will always get the party jumping.
Want a Great Party? Then Play These Songs!
Here is our list of recommendations for the best party songs. All of these songs are huge hits and perfect for any kind of party. Save time searching for songs--we have listed all kinds of songs great for a party.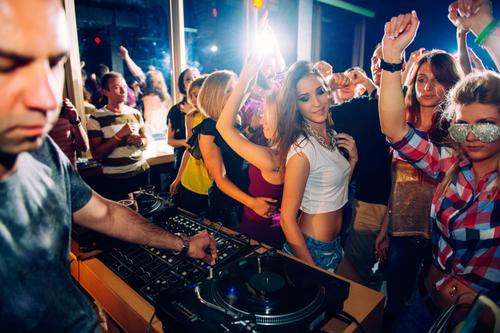 1. "Billie Jean" - Michael Jackson
Michael Jackson is absolutely going to appear on any respectable list of party songs. "Billie Jean" is one of his all-time classics, and when that first bit of baseline kicks in, it makes people hit the dance floor, ready to dance.
2. "Thriller" - Michael Jackson
MJ's second song on this list of party songs is here thanks to its iconic dance. "Thriller" is sure to get everyone up and doing the dance; there is not a person alive who does not love "Thriller."
3. Happy - Pharrell Williams
"Happy" by Pharrell Williams is something of a modern classic! A feel good tune like this will always be on a best party songs of all time list.
4. "I Gotta Feeling" - Black Eyed Peas
This is one of those songs that makes everyone say "this is my jam." "I Gotta Feeling" is a really fun song for dancing and for singing along.
5. "Party In the U.S.A." - Miley Cyrus
Is a party even a party without Miley Cyrus? This may seem an odd one, but it is a fun song and one that some folks will be surprised to hear is by Miley Cyrus.
6. "Footloose" – Kenny Loggins
This 80's classic is joining the list. "Footloose" just has to be on any party songs list. Whether or not you've seen the movie, you know the words to this toe-tapping song. It is sure to get both the guys and girls up on their feet.
7. "Hot In Here" – Nelly
With a funky beat and a chorus everyone can sing along to, playing this at the party is sure to go down great!
8. "Ghostbusters" – Ray Parker Jr
Really? Heck yeah! "Ghostbusters" is the kind of 80's classic that the whole world knows, and if you play this after everyone has had a few drinks it is sure to get the whole party out on the dance floor singing along and going nuts.
9. "Crazy In Love" – Beyoncé
We are pretty sure that a law was passed in 2010 stating that any party not playing at least one Beyoncé track is lame! With the "uh oh, uh on," "Crazy In Love" is one of the best party songs to get everyone having a good time.
10. "Love Shack" – B-52's
Yes, this one is cheesy as hell, but you gotta have some cheesy classics at a party.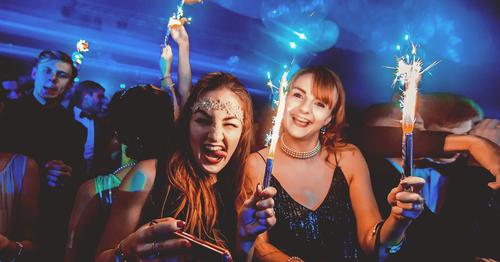 11. "Poker Face" - Lady Gaga
Much like Beyoncé, Lady Gaga is a must at any modern party. Mother Monster has a ton of upbeat hits to pick from, but this one is our favorite.
12. "Party Rock Anthem" - LMFAO
This one is a bit of a modern classic, funky, cool and hit it is sure to get everyone dancing.
13. "Fight For Your Right" - Beastie Boys
You gotta fight! For your right! To party! Nothing more needs to be said about this classic! If you want people up and going wild, this is the song to do it.
14. "Get The Party Started" - Pink
Pink has had some awesome party tunes over the years, but most would agree this is her best song for a fun party.
15. "Yeah" - Usher
"Yeah" is one of Usher's biggest hits. With a little help from Ludacris and Lil John, it is one of his very best! This is the kind of song that everyone can dance to which makes it great for a party.
16. "Groove Is In The Heart" - DeeeLite
One of the most classic dance songs from the 90's, with just the right amount of cheesiness. This song is a feel good classic with a good beat and a catchy chorus and is sure to put a smile on everyone's face.
17. "Hey Ya" - Outkast
The whole party will be shaking it (like a polaroid picture) when this comes on. It is fun, easy to dance to, and one that most people will have heard of.
18. "Jump Around" - House Of Pain
A true 90's hip hop and party anthem! "Jump Around" should be legally required to be played at every party. One of the best parts of this song is watching people try to rap along with it.
19. "All Summer Long" - Kid Rock
Here we have a fantastic rock track that is perfect for any kind of party. We recommend you play this song when things are starting to mellow out a little bit towards the end of the night.
20. "Thong Song" - Sisqo
From the early 00's, "Thong Song" is a real party classic and one of those fun songs that everyone knows. "Thong Song" is great for getting people up and dancing.
These are 20 of the best party songs of all time. Without a doubt, if you make a playlist of these songs at your party, people are going to love it. A great playlist has a mix of some modern songs, a couple classics, and some cheesy hits in there as well.