Wondering Why You Cannot See His/Her Posts on Instagram?
In the digital era that we live in – one in which, on a regular day, most of our interactions with other humans are through our phones – it is pretty common that we can get used to receiving a certain amount of information from particular persons, like friends or colleagues, on social networks. So, is it normal if you suddenly notice and find that you are no longer seeing posts or stories of a certain person from whom you used to receive a lot of information before, meaning that they were pretty active on Instagram previously? Why does this person seem to suddenly have disappeared from Instagram? Why don't you see their posts anymore? Did they deactivate their account? Or did you get blocked?
Discover If Someone Deactivated Their Account or If You Got Blocked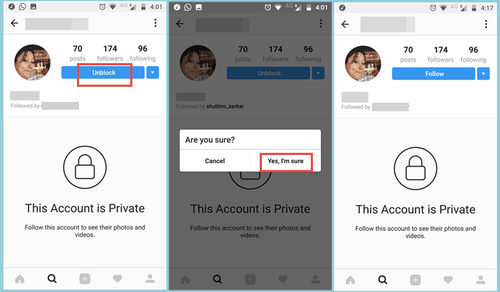 1. If the account is public
If a person with a public profile deactivated the account you wouldn't be able to find them in the search engine of Instagram. You can also use a browser to find out if this person with a public account deactivated their Instagram: If you type Instagram's address and this person's username like this https//www.instagram.com/username and are redirected to a page that says "Sorry, this page isn't available", the account has been deactivated.
The account has posts available, but it displays none
You may also wonder why you see no post of someone on Instagram. If, on the contrary to the case explained before, you are able to look for this person on the search engine and go to their profile but find out zero posts that nevertheless shows you the number of pictures posted, the number of following or followers, then you can consider yourself blocked.
Every time that you find blank on an Instagram public account that shows you that pictures were posted, means that you were blocked. But depending on which phone you are using Instagram in, you could be redirected to a blank page or one in which you can see the profile pic and the bio but the follow button is replaced with a "User not found" text, which means in both cases that you were blocked.
2. If the account is active but private
If the account is private, however, it will be harder to know if they have deactivated their account or blocked you because in both cases you won't be able to look them up in the search engine. To tell the difference you could ask a friend to look for the person you are interested in their browser. Whether they follow each other or not, the account should appear when searched. If it does, it means you were blocked else the account was deactivated. If you don't feel like asking somebody else a favor, then you can always do the search yourself if you open and create a new account from which you will try to look them up or follow them.
These ways to know if a person blocked you or deactivated their account might change slightly from phone to phone and the app version you have installed, but these hints tend to be very general or similar nonetheless. Whenever you see a blank Instagram with the same descriptions as explained before, consider yourself blocked regardless of the OS or app version.
In Case That You Were Blocked
If the account has been deactivated then you shouldn't have much to worry about, but if that isn't the case and you were blocked by a person, you should probably start looking for hints in your past interactions to find out the cause. Don't invade a person's privacy and try to follow them from multiple accounts, just give them space and wait to see if in the future they decide to unblock you.