5 Best Romantic Getaways in PA
Nothing is more romantic than a weekend escape with your partner to a luxurious resort tucked in the midst of nature. Pennsylvania has exquisite resorts that offer weekend getaways for couples as it contains within its boundaries a diverse topography of lakes, mountains and landscapes. Since the mountains make the weather cooler in this state, the recommended season to visit is during fall, especially in October and November when rain is few and fall colors paint the land gloriously. While cities like Philadelphia and Pittsburgh house landmarks such as the Liberty Bell and the famous Hershey's chocolate factory, Bedford, Monroe and Clarion are visited for romantic getaways.
Omni Bedford Springs Resort (Bedford Coun

ty)
Couples may skip Paris, Swiss Alps and Prague for the equally romantic experience by Omni Bedford Springs situated among tiny towns and farms of the Allegheny Mountains. Although one of the country's oldest resorts, repeat customers go back for its satisfactory clean rooms, high-quality customer service, friendly staff, indoor pool, eternal spa packages, golf course, restaurants and fitness facilities.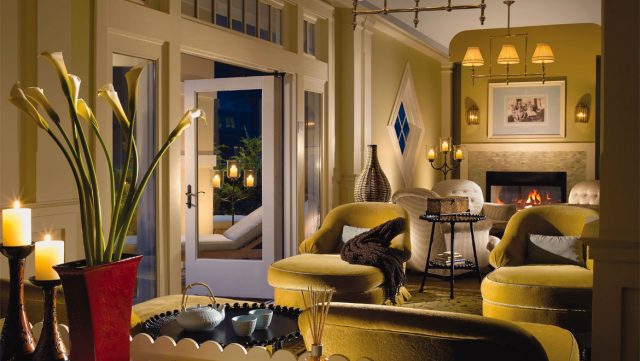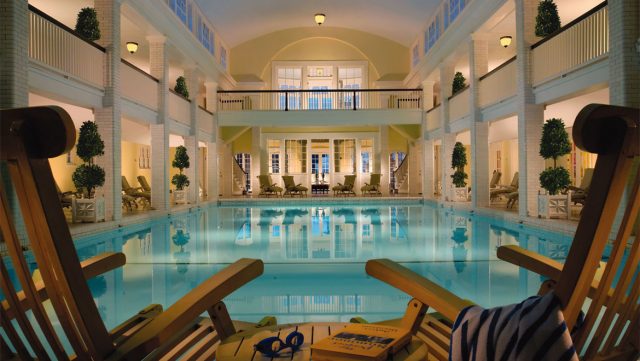 Highlights:
Rustic and historical-themed decors will not bore you as you walk within the property.
Twenty-minute walk from town where a variety of shops and restaurants are found.
Various activities within the resort such as spa, swimming, golfing, fishing and hiking to the camp.
Tips:
Prepare for long walks to the hall from your room area to the hotel amenities.
Call early for spa reservations on your desired dates as therapists get fully booked quickly.
Allot 20 minutes waiting time for the valet service to bring your car due to distance of the parking lots.
Cove Haven Resort (Lakeville, Wayne County)
Any day could be Valentine's Day when spent in Cove Haven Resort, one of the most popular romantic getaways in PA. This adults-only property thought carefully about its individual room designs which you will find truthful to its advertisement photos. Spark that love with your partner at the Champagne Tower area where a fireplace, sauna and champagne hot tub will tempt you to spend most of your time indoors. If you ever want some adventures outdoors, the Pocono Mountains and lake are easily accessible for hikes.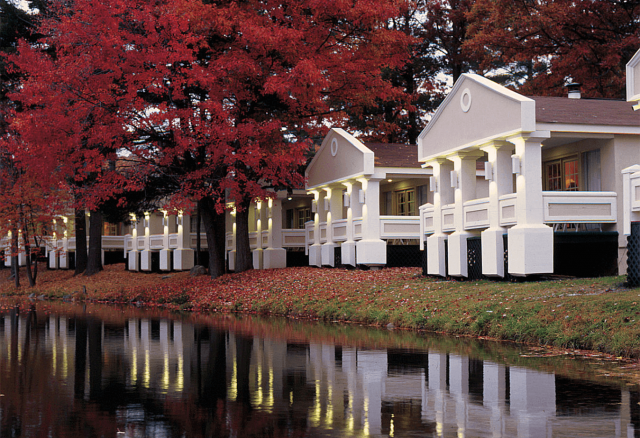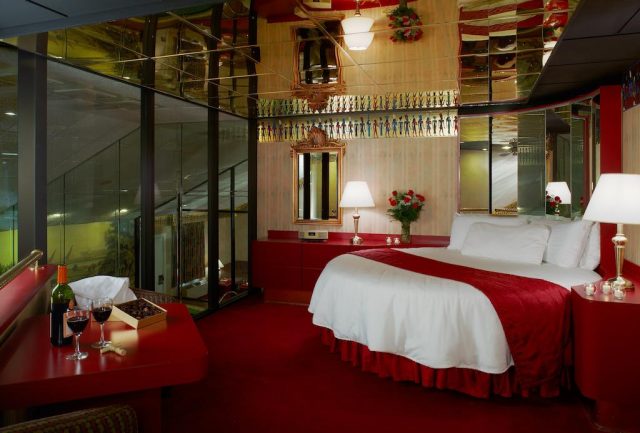 Highlights:
The lake area provides a peaceful and serene experience.
A wide range of options for breakfasts and sumptuous menu for dinner.
Proximity to Happy Trails horseback riding facility.
Tips:
Allot an hour when requesting the room service to deliver your meals.
If you get bored with food offered at the resort, there are nearby restaurants as option.
You can bring your own snacks and water to save money.
Pocono Palace Resort (Marshalls Creek, Monroe County)
Sip a champagne while dipping in the private couple's pool inside your suite, or warm up in your own heart-shaped jacuzzi in Pocono Palace Resort, one of the best weekend getaways in PA for lovebirds. Book a lakeside chalet providing you a huge round bed, fireplace, heart-shaped tub, heaters and refrigerator. Although you wouldn't want to leave your own little haven, the amenities outside will be worth your time, too.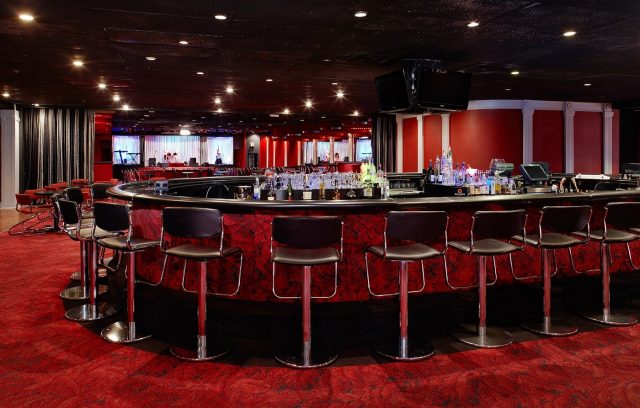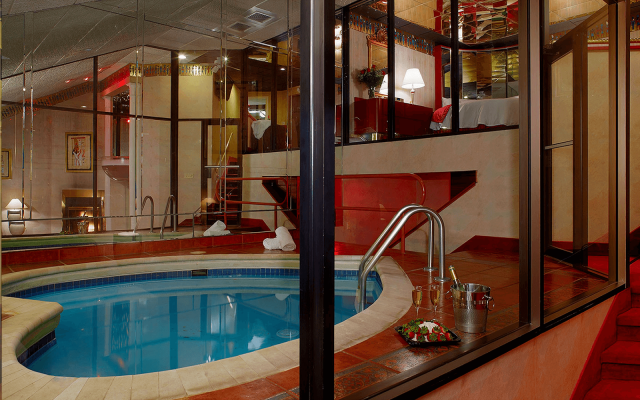 Highlights:
Has close proximity to several of the Pocono Mountain ski areas such as Shawnee Mountain and Big Pocono.
Availability of various recreational facilities such as the 24-hour gymnasium, mini golf course, pool table, shuffleboard, and air hockey court.
All-inclusive package offering complete meals.
Tips:
If you're not availing the all-inclusive package, you can bring your own food and snacks to avoid those which are expensively sold by the resort.
Drinks still don't come along with all-inclusive deal.
Food options could be limited for people who don't eat beef and pork.
Nemacolin Woodlands Resort & Spa (Farmington Township, Clarion County)
Whether a day trip or an extended escape, Nemacolin has been a favorite for a variety of couples traveling. Featuring five unique lodging options, Falling Rock is a favorite among Chateau Lafayette, The Lodge, Townhomes and Luxury Vacation Homes. Each has exceptional rooms with quiet ambience, comfortable beds and pillows. A range of adventures are available outdoors like wall climbing, horseback riding, golf, shooting and zipline.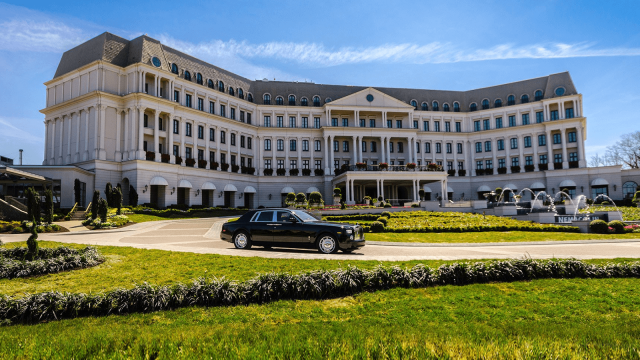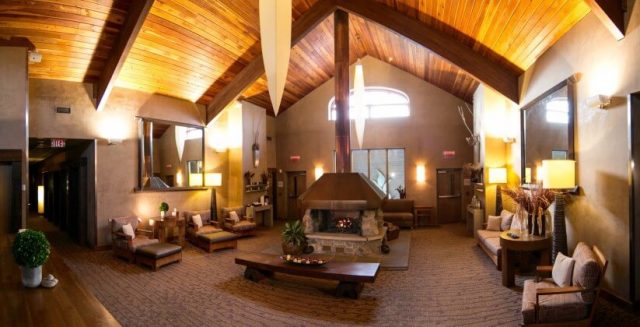 Highlights:
Woodland Spa, a detailed massage experience.
Experience the authentic five-star restaurant Lautrec providing world-class dining.
Mystic Rock Golf Course painting a brilliant scene from the Allegheny Mountains.
Tips:
Do your outdoor activities during the day as most facilities close early.
Book the butler service of a royalty treatment.
Prepare extra budget if you want to use a fridge which is charged an extra daily fee.
Paradise Stream Resort (Mount Pocono, Monroe County)
Another couples-only resort by Cove Haven, Paradise Spring is one of the most conveniently-located romantic getaways in PA, specifically in the Pocono Mountains region. Following its sister resort's theme, Paradise Spring includes lovers-friendly in-room amenities such as a warming fireplace, heart-shaped whirlpool tub and jacuzzi. Although its land area is smaller, it manages to provide a trail for running, a game room, an archery area and an outdoor pool.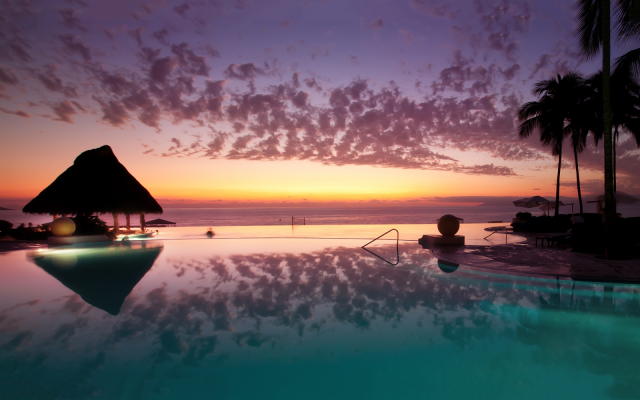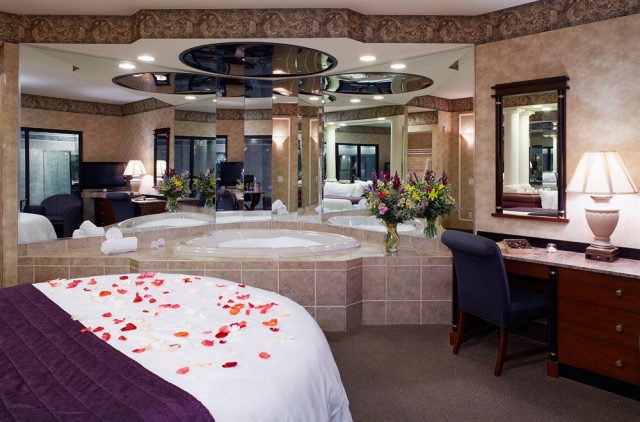 Highlights:
Activities are free.
Rooms are spacious for a cheaper cost compared to similar-themed resorts.
Proximity to nearby restaurants like IL Mulino, Guy Fieri Place (in Mount Airy Resort), a Steakhouse and a Japanese Sushi place.
Tips:
Activate champagne hot tubs earlier as they take some time to fill and heat.
Check for the schedule of shows and games so you will not miss them.
Try skipping the all-inclusive package since a more varied option is available on restaurants outside.
Summary
Whether you are a couple in a new relationship, just recently married, or about to celebrate your 25th wedding anniversary, these romantic getaways are a perfect fit to cherish your passion for each other. Even if you're going to visit on a colder season where snow covers most surface outside, the indoor facilities designed to keep you entertained will make your stay worthwhile.